This summer, my husband and I visited Iceland for a 3-day trip. Iceland's magnificent landscape and natural wonder took our breath away. In this post, I will share my tips and itinerary for visiting Iceland.
Preparation
Visa
Check the government website for visa requirements. I had to apply for a Schengen visa in order to enter Iceland. Make sure you follow the visa application process and get all required materials ready.
Clothes
Iceland is cold, even in summer. We visited in early August, and the weather was around 10 degree Celsius. With the wind and rain, it felt much colder in the wild. 
Make sure you have waterproof jackets, waterproof pants, waterproof sneakers, and a cozy beanie if you plan to do any outdoor activities. Let's be honest, who wouldn't want to go for a hike on the lava 😀 Bring swimming suits, towels, and slippers if you plan to enjoy the outdoor hot spring!
You can either pack these clothes before you visit, or buy them at local clothes stores when you arrive in Iceland. Because of tax refund for foreigners, buying locally may be a good option. Local outdoor clothes stores such as 66 North and Icewear are everywhere in the city. 
Oh don't forget to bring a light and waterproof backpack to carry water and snacks when you hike.
Phone and internet
You can buy a new SIM card with data plan at the airport, rent a WIFI hotspot at a car rental company, or activate an International plan with your current phone carrier.
The last option is usually the most expensive, but probably the most convenient since you can use your current phone number. The first option is usually the cheapest, and more reliable if you don't mind changing your phone number. I used the last option with Verizon's Travel Pass for $10 each day.
Even with all the data set up, you may still get no signal in Iceland, especially in the wild. So downloading an offline map on Google Maps is highly recommended, together with your favorite music and podcasts on Spotify.
Cash
Iceland's currency is Icelandic króna, ISK. Almost all the places we visited accept credit cards. We exchanged for $200 worth of ISK before we went to Iceland, and ended up only using $20 at a local hot spring. So maybe bring $100 worth of ISK just in case.
Transportation
Flight
The flight from New York to Iceland is 5.5 hours, about the same duration as a flight to California. There were no meals served on our flight, only snacks.
Car rental
The best way to travel around Iceland is to drive by yourself. There are many rental companies at the airport. You can either take a free car rental shuttle or walk for 5 minutes to go to the car rental parking lot (see the shuttle map below).
After reading online reviews, I decided not to use international car rental companies such as National, SIXT, etc. We booked a local Icelandic car rental company called BLUE, and overall I was very happy with their customer service. We rented a SUV for 3 days, about $200 each day, which was quite expensive. We had a bumpy experience with this "fancy" car. The car's gas tank was pressurized, which we were not familiar with. When we tried to twist open the tank lid, we couldn't open it. There was a user manual in the glove compartment and we followed the instruction to press a button next to the steering wheel to release the pressure in the tank. After refuel, the dashboard did not show the correct range. Instead, it showed a drastic 1 km decrease every 30s when we were driving on local roads. I was worried there may be a leakage and we might run out of gas in the wild. So I called BLUE's customer service. I got connected to a staff immediately and was told as long as the gas bar showed full tank, I was good. The range number was just misleading. Phew.
With the car key, we got a discount membership card that gave a small discount at two local gas stations: OB and Olis. They were everywhere in Iceland. Some of these gas stations do not have any staff. We were able to use our credit cards without any issues in these two gas stations. We also tried another gas station N1, and the credit card machine asked for PIN. I didn't set any PIN for my credit card, and had to call my credit card company Chase and ask for a PIN number. Chase told me if I use PIN for my credit card transaction, it would be considered as cash withdrawal with additional fee. I don't want that! So make sure you use a gas station that accepts foreign credit cards without PIN!
Parking in Reykjavik downtown area is a nightmare. We were glad that we found free local parking near our hotel with the hotel staff's help, but it was very hard to find parking spot in downtown. Make sure to ask your hotel for secret parking spots.
The road in Iceland is mostly two lane and easy to drive. The speed limit is very strict according to the internet. You certainly do not want to go over too much above the limit. We didn't drive on F-road, only on paved or gravel roads. Driving on F-roads is more difficult and you have to drive 4X4 by law.
The roundabouts in Iceland can be a bit tricky, but as long as you drive slowly and yield properly, you will be fine.
In Iceland, you also drive on the right side, same as in the US.
Of course, you do not have to rent a car to travel around Iceland. I see many tour buses. But driving is the best way to explore Iceland with the freedom to go wherever you want, and stop whenever you want to appreciate the view.
Accommodation
We stayed at 3 different places in 3 nights.
Reykjavik
Initially I was trying to look for Airbnb in the city of Reykjavik, but didn't find any good options. I ended up booking a room in a guesthouse called "Eric the Red Guesthouse" right next to the grand church – Hallgrímskirkja, with free street parking, and I enjoyed our stay and the helpful staff.
One thing to note is that the hot water from tap and sink sometimes smells like rotten eggs. This is normal in Iceland because of geothermal origins of the warm water with sulfur. You get used to the smell over time.
Golden Circle
During our road trip, we stayed one night in a camp near Selfoss listed on Airbnb. The camp was a short walk from the beach. The tent was well insulated with heaters and heated blankets. There was a guest center with bathrooms, shower, and kitchen. But there was no bathroom in the tent. At night, when it was cold, windy, and rainy outside, I had to layer up to run to the guest center for bathroom with the flash light coming from my phone. It was not far, but still, cold.
The thing I like about the tent was that you could really experience Icelandic landscape and weather, hearing the wind passing the tent, feeling the early sunshine, smelling the ocean breeze, while still keeping warm inside. It was a once-in-a-lifetime experience.
Do I want to live in a tent again in Iceland? Probably not 😂
Blue Lagoon
The last night we stayed at Blue Lagoon. We knew we wanted to visit Blue Lagoon at the end of our trip to relax, and get ready for our flight the next morning. We could stay at a hotel near the airport, but it would be a hassle to dress up after all the relaxation. So we decided to stay at the Retreat Hotel, and booked the one-night package, including a dinner at Michelin-rated Moss Restaurant, breakfast, afternoon coffee and pastries, Retreat Spa, Retreat Lagoon, and Blue Lagoon.
The hotel was second to none and the view was astonishing. It was directly connected to the lagoon and spa, making the visit very convenient. We only stayed here for one night, and were in a rush to catch our flight the next morning. Certainly wish I'd spent more time here. It was the MOST expensive hotel I've stayed, and you really get what you pay for. Now we need to save up for the next visit 😂.
You have to book the hotel or the spa in advance. Sometimes you may not find availability for your preferred date, but people cancel their bookings all the time. Free cancellation 7 days before arrival. So check the website occasionally.
This is the view from our room: lava, moss, lagoon, and gray Iceland sky.
Restaurants
Icelandic cuisine emphasizes on fish and preservation. Pickled and smoke fish is my new favorite. Goat liver pate is something I never tasted before and really enjoy. We didn't try the famous fermented shark meat, Hákarl.
Kökulist bakery
There were no meals served on our flight from JFK to KEF. When we got to Iceland, we were hungry and sleepy, and needed some energy as soon as we picked up our rental car.
I found this bakery on Google Map less than 10 minute drive away from the airport, and we had our first taste of Iceland food: donut, sandwich, and SMALL cups of latte. I was hoping to get a large iced coffee to wake up, but they only had hot coffee, and a single size – small. No more American LARGE size! This SMALL cup theme is universal around Iceland and other Nordic countries.
101 Reykjavik Street Food
A convenient eatery in downtown Reykjavik. This was our first traditional Icelandic cuisine, and we immediately fell in love with the warm and flavorful lamb meat soup.
Fishmarket
A hybrid of Asia and Nordic cuisine, with seafood and steak. We tried the tasting menu. The seafood was fresh and flavorful, and I liked the scallop the most. When I saw "squid tempura" on the menu, I was wondering what it was. Turns out it was just calamari. You can hardly go wrong with deep fried squid.
I was not impressed by the steak. It had a lot of tendon and was hard to chew. Nothing beats New York's Peter Luger ribeye steak 😌
Note that it is extremely difficult to find parking in downtown. We first drove to this restaurant and spent 15 minutes looking for parking, in vain. We ended up parking our car at our hotel, and walked 15 minutes back to the restaurant.
Loki
Traditional Icelandic cuisine right in front of Hallgrímskirkja. We had Icelandic plate Baldur and Lamb shank. It was a very pleasant breakfast before a full day of driving. There was a huge mural about the story of Loki on the second floor. Nordic culture is tightly associated with Norse mythology.
Kaffi Krús
A cozy two-floor restaurant recommended by our Airbnb host in Selfoss with burger, fish and chips, coffee and bakery. We had a big nice breakfast before a day of activities.
Moss restaurant
Moss is a restaurant associated with Retreat Hotel at Blue Lagoon. I asked if it was possible to book the restaurant without the hotel and was told me due to limited availability, the restaurant was only reserved for Retreat Hotel guests. Moss is a Michelin-rated restaurant. The 7-course tasting menu "showcases the best of Iceland's produce in a series of exacting and visually stunning dishes".
It was the tomato season in August, and the sweet and sour tomato dish was my favorite. I also enjoyed the lamb , langoustine, and the mango custard dessert. Overall, it was a great meal after relaxing at the lagoon.
Dill
Dill is a Michelin one star restaurant in Reykjavík with "creative/traditional" Nordic cuisine. When I tried to book a table on their website, I saw no opening. So I emailed them and was told they were closed in August and would do a pop-up in Copenhagen. Here we go! We decided to stop by Copenhagen and visited Dill's pop up.
Dill's pop is inside the famous Tivoli Garden in the center of Copenhagen. When we got there on a Friday night, there were a lot of people in the garden for the Friday night rock concert. The food was delicious! I loved the small bite size appetizer with smoked trout, tomato (in season!), and the lamb loin.
A Danish couple sitting next to us overheard our conversation about how much we enjoyed Nordic culture (Denmark in particular), their social welfare system, free education, free health care, and how much American's system sucked. She said she had lived in New York for many years, and she loved America. Things we have observed as visitors about the Nordic society are not fake, but are also not the full picture.
Nordic culture (Denmark, Sweden, etc), according to her, emphasizes on being content with where you are, who you are –Janteloven (the law of Jante): putting society ahead of the individual, not boasting about individual accomplishments, and not being jealous of others. This may sound like a good quality at first, but it also discourages outstandingness and individual excellence, the opposite of the American culture. While the healthcare may be "free", a citizen may have to wait months if not years for certain treatment or surgery. As to free education, because of Janteloven, students who excel may not be given the opportunity to further develop their skills and talent. Grass is always greener on the other side, and no country or system is without its shortcomings.
Hotdog
Iceland's de facto national fast food is the hot dog! They are made mostly from Icelandic lamb, along with pork and beef. The sheep in Iceland roam the countryside and on the mountains as you can see driving along, meaning the lamb is organic, free range, grass fed, and TASTY! Make sure you add crispy fried onions to the hotdog when you order it.
Where can you get a hotdog? You can buy them almost everywhere, gas station, convenience store, airport. We bought our hotdogs at random gas station and they were all good!
KFC
When I saw Subway and KFC on the street, I was like "WHO would go to these fast food places when traveling in Iceland, instead of local restaurants?" And that would be me. We were driving towards our Airbnb and it got quite late. KFC was one of the few places still open near 10PM close to our Airbnb near Selfoss. I was grateful that I could eat some hot chicken sandwich in a cold evening.
Tax refund
A big attraction of Iceland (and other European countries) is tax refund. According to the Government of Iceland:
Tourists who reside abroad can claim a proportional VAT refund when shopping in Iceland. The refund is limited to purchases that are intended to be taken out of the country and amount to a minimum of ISK 6 000 (including VAT), made at a single point of sale.
6000 ISK is about 42 USD. VAT tax rate is 24%. You get charged with VAT tax for almost all purchases, including clothes and souvenir.
The way it works is that after you pay for your purchase, you will receive the regular receipts and you can ask the cashier to give you a tax refund form. You will then fill out the tax refund form with your personal information, passport number, and credit card number. When you arrive at the airport, before you check in your luggage and security check, go to the tax refund window first! If you can't find the tax refund window, just ask around. Give the filled tax form and your passport to the staff and that's it. From some online review, it seems sometimes the tax refund staff will ask you to show all the items you purchased. They didn't ask me. But just in case, it is better to put all your purchased items in a single place. It is said that it may take 6-8 weeks to get the refund. Will see when I will get my $100 back.
Itinerary
Day 1 Arrive in Iceland and explore Reykjavik
The city of Reykjavik is small. You can just walk around, or rent a scooter. I would't spend more than 1 day or 2 in the city because there is so much more to see in Iceland outside the city. The city is a good place to buy souvenir and outdoor clothes for your hikes.
Hallgrímskirkja
It is a Lutheran (Church of Iceland) parish church in Reykjavík, the largest church in Iceland. It is a landmark and must-see place when you first visit Reykjavík. It is right next to the hotel we were staying.
Reykjavík's Neighborhood of the Gods
This is an area in Iceland's capital city featuring streets named after figures from Norse mythology, such as Loki and Odin. Thanks to Marvel, I get to know a bit about Loki, Thor, Odin, Asgard, Bifröst, Ragnarok, and so on.
Sun Voyager
The gleaming steel sculpture on Reykjavik's splendid waterfront that resembles a Viking long-ship is the "Solfar" or "Sun Voyager". If you have watched the show Vikings, you could imagine the storm and wave Vikings experienced when they crossed the ocean.
Souvenir
Downtown is a place to buy warm clothes for hiking and to buy souvenir. You can buy generic magnets and T-shirts (like I did), or go with the fancier option of Icelandic Wool Blankets. Make sure you keep the receipts and the tax refund form.
Day 2 Golden Circle
Golden circle is for people who do not have time to complete the whole circle around Iceland. You won't see glacier or drive on F-roads on the highland. But you will still see a lot! It is a 1 or 2 day road trip in the southern part of Iceland.
We did a 1.5 day trip and stayed at Camp Boutique near Selfoss at night.
Drive towards Þingvellir National Park
You can drive on route 36 for about 1 hour directly to Þingvellir National Park. There is not much to see on this route.
Or you could take a small detour on route 430 – 435 -360 for a more scenic route. I found this route from a guidebook that I happened to read in the guesthouse hotel. It was so beautiful! The magnificient land and mountains, wandering sheep, geothermal pipe, and you know what's the best? There were very few cars on this route! Most of the time, we were the only car on the road. I saw several hiking trials along the way, and wish I'd have more time to explore the land.
Driving along route 360, you will see the grand Þingvallavatn lake on your right side.
Þingvellir National Park
Thingvellir National Park is the top 1 place to visit in Iceland, and it is no surprise when you get there. We only spent about 1 hour and half there due to our tight schedule.
There is a famous Law Rock in the park, where laws where recited. Every man could also bring his disputes up on Lögberg and speak freely. If you have watched Vikings, you may remember when Rollo was set free at a Law Rock. Probably not the same Law Rock.
If you have more time, you can hike further to see a waterfall. You can even scuba dive or snorkel at Silfra Fissure. You'd have to wear a wet suit because it is cold!
It was raining from time to time, not pouring. The ground can be wet and slipper. So it is best to wear waterproof clothes and shoes for a more comfortable hiking.
The park is free to enter, but you will need to pay a parking fee on a machine.
From Þingvellir National Park, we drove along the Golden Circle with this route:
Friðheimar
This is a tomato greenhouse recommended by a coworker along the Golden circle. You'd need a reservation ahead of time to dine in at the greenhouse. We were not able to get a reservation, so we just walked in and sat by the bar. Their organic tomato soup was very comforting, especially after a chilly and wet hike. It was a bit too sour to me though. The tomato cheesecake was quite delicious. We took a walk around the greenhouse after our short tomato break.
Geysir Hot Springs
This is the moment when I realized Iceland is really the land of Ice and Fire.
If you want to see the geysir closely, you will get wet, both your clothes and your shoes. So again, waterproof is a must. There is a shopping / dining center near the parking lot. A warm cup of coffee is great to have after visiting the geysir.
Gullfoss Waterfall lookout
A short 10 minute drive from the Geysir, and you will arrive at the giant waterfall.
You can hike down the road and get very close to the water, and not surprisingly, you will get wet from the mist. I was in awe, and felt small in front of this magnificent natural wonder.
Hrunalaug Hot Spring
After the waterfall, we drove half an hour to a secret outdoor hot spring. It is recommended by my coworker who enjoyed this place a lot.
The entrance is 1000 ISK per person, cash only. It seems you can also pay with USD and Euro, but to be safe, bring some ISK with you. From the parking lot to the hot spring, it is a 1 minute or so walk. Make sure to bring your own towel, dry clothes, slippers, and of course, swimming suit.
I didn't get to take photos of the hot spring itself, and here is a photo I find from the internet. The small house is where you can put your backpack, dry clothes, and get changed. I recommend that you change in your own car because the house can get busy and wet. Do bring a towel and a jacket with you because when you get out from the hot spring, it is likely to be chilly and windy.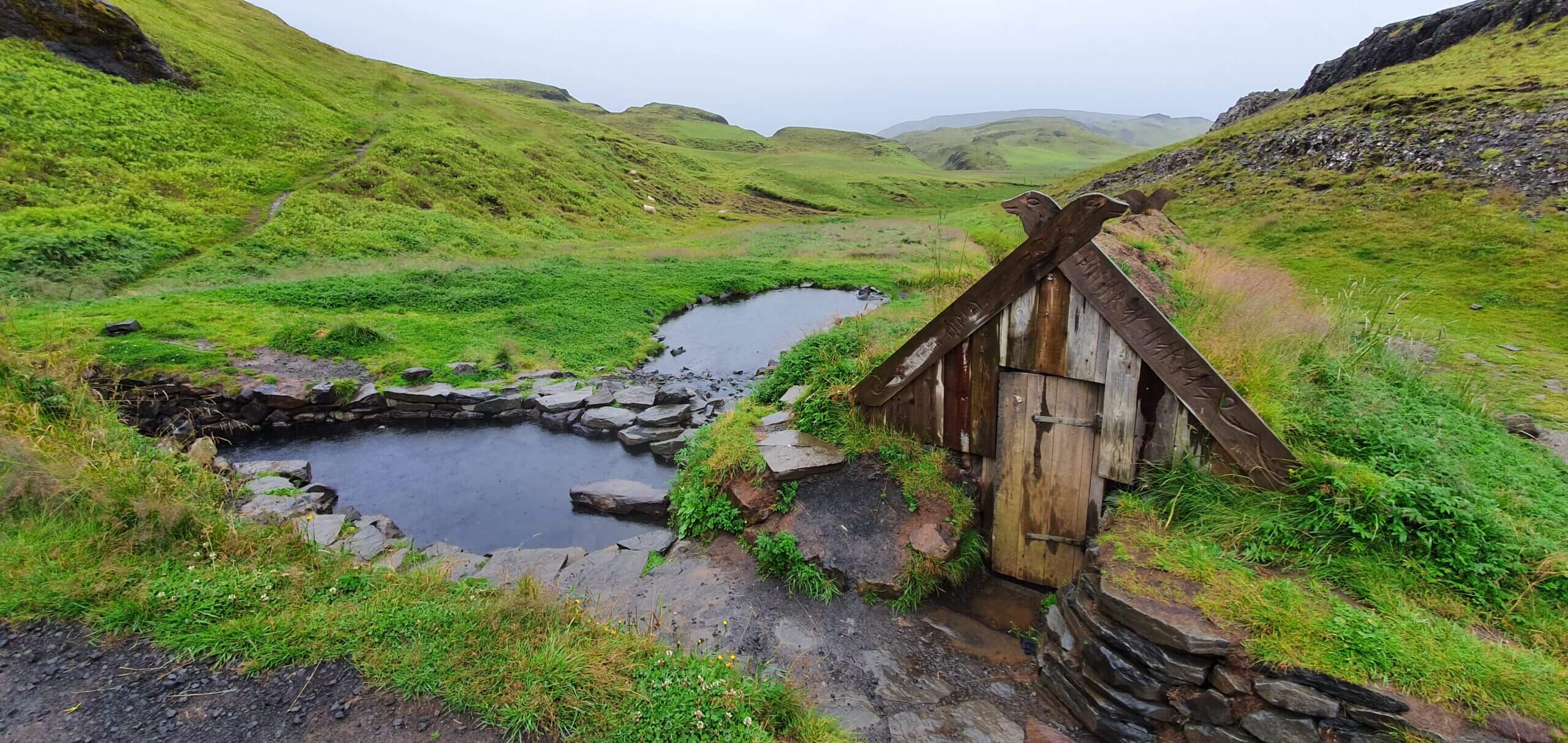 I can't describe how amazing it felt when I stepped into the hot spring after a long day of road trip and chilly hikes. The water is about 40 degree Celsius, a warm welcome contrast to the 10 degree Celsius weather. There were not many tourists here, and when we chatted with them, most of them were from Europe and learned about this place from a tour book. We were really glad we came here.
We got there in the evening, yet the day was still bright. You can read more about this hot spring at https://icelandtrippers.com/hrunalaug-hot-springs/.
As much as we wanted to stay in the hot spring forever, we had to check in our Airbnb, which was another one hour of drive. It was pretty late when we got to Selfoss and the only place open was KFC. At least, we were able to have some warm food.
Day 3 Crater and Blue Lagoon
Originally, our plan was to explore the South Shore on Day 3. But we also wanted to have enough time (at least 4 hours!) to enjoy Blue Lagoon. Since we already paid for the Blue Lagoon reservation, we decided to push South Shore to the next time. And there is definitely a next time.
When we woke up from the tent in the morning, we had a short walk to the beach and Loftsstaðir, and rested a bit in the warm barn. Loftstaðir is a medieval fishing station. A great sorcerer called Galdra-Ögmundur lived there around 1600.
Kerið Crater
After we had our brunch, we drove to the Kerid Crater. The crater is another example of the Fire part of Iceland. It is smaller than I thought, and I was less impressed by the crater than the Gullfoss waterfall. The hike down to the crater pond was fun.
Blue Lagoon
After the crater, we drove 1 hour to Blue Lagoon along the south shore. The landscape was mostly moss and lava.
We passed by Fagradalsfjall Volcano. The volcano was erupting during our stay, and there were a looooooot of cars parked along the road and people hiking to view the erupting volcano. Unfortunately, we did not have time for a 6 hour hike.
At Blue Lagoon, the water is a constant 38 degree Celsius. The Retreat Hotel has its own private lagoon, which is much smaller than the general Blue Lagoon. I had fun at both lagoons. Camera is not allowed in the private lagoon, but permitted for Blue Lagoon. You get free mud mask for a facial treatment and rinse it off in the lagoon, which was quite nice.
I highly recommend Blue Lagoon either as the first stop or the last stop when visiting Iceland. It is a short 20 min drive from the airport.
Day 4 Blue Lagoon and leave Iceland
A hallmark of Blue Lagoon is the Ritual, a cycle of full body mask with silica, algae, and minerals. "In a spacious sanctuary of three interconnected chambers, you cover your body with the treasures of geothermal seawater, becoming one with the rejuvenating powers of the volcanic earth." We did not have time to enjoy the Ritual on our first night, but were able to squeeze in for an early morning short version Ritual when the spa was open at 8 AM. It could be more relaxing if we did not have to rush and catch our flight at 11 AM.
After the Ritual, we drove to the airport, returned our rental car, submitted the tax refund form, and finished our first short Iceland trip.
What's next
We didn't have time to explore the erupting volcano, the South Shore, the Glacier, the highland, and would love to spend more time enjoying Blue Lagoon and hiking on the lava.
There is so much more the Land of Ice and Fire offers. Until next time.